You have installed Sngine and found that links not working and give you 404 not found error?
You simply check if you have mod_rewrite enabled and you can get that from your server admin or hosting support.
Also check if you have uploaded the htaccess file which already included with the downloaded package but it may be hidden for you if you're using Mac OS or Linux as it start with dot.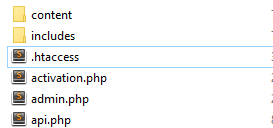 Also when you upload Sngine from cPanel File Manager make sure you have checked the option to show the hidden files
And that's it and Happy Sngine 🙂